【2 in 1 feeder】This product includes pet feeder and pet waterer, using gravity to ensure the continuous supply of food and water, without electricity, environmental protection
【The quality is reliable】and the waterproof device is strengthened to prevent leakage. The feeder is equipped with a safety lock and needs to be tightened to separate to prevent damage
【Automatic distribution】A new buffer design is adopted between the barrel and the chassis. The gravity buffer function is designed to slowly release food and water. Ensure a stable supply of food or snacks and prevent splashes and spills.
【Materials and detachable towers】100% new materials, thick texture, strong and durable, recyclable, can keep food fresh. All accessories can be separated and can be washed directly with water. (It is recommended to wash once a week)

 
【MATERIAL】BPA Free. Made of environmentally safe,non-toxic plastic. Protect your pets health.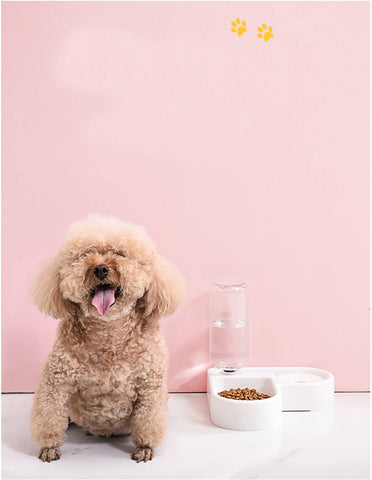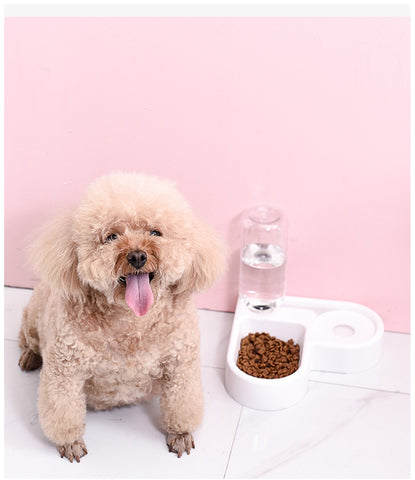 The goods are excellent! The seller umnichka, reached 3 weeks before Nizhny Novgorod, the seller put a gift, it was very nice!
A beautiful and comfortable thing. It came quickly, well packed, and the seller put as a gift scissors for claws)
Automatic Pet Feeder Small Cats Food Feeder and Waterer Set 500ML, Travel Supply Feeder and Water Dispenser for Dogs Cats
exelente calidad algo pequeña pero si funciona llegó algo abollada pero tuvo solución